American conductor Scott Dunn is the Associate Conductor of the LA Philharmonic's Hollywood Bowl Orchestra. He has recently also led the Pittsburgh Symphony, the Atlanta Symphony, the Orchestra of St Luke's, the Colorado Symphony, the LA Philharmonic, the Orchestre National de France, and the St Petersburg (Russia) Philharmonic, among others.
As one of the most versatile musicians of his generation, he's garnered considerable critical praise. One New York critic noted…he is a conductor of great promise, a pianist of note, and a sensitive and intelligent artist. All of these elements came together to give the audience an experience closer to heaven than most of us will get in this lifetime. His recent schedule well demonstrates his versatility – a gala pops concert with Steve Martin and the Atlanta Symphony; the fiendishly difficult LIGETI PIANO CONCERTO with pianist Gloria Cheng; memorial concerts in New York and London for Sir Richard Rodney Bennett; Stravinsky's A SOLDIER'S TALE; the premiere and publication of Schoenberg's CABARET SONGS orchestrated by Dunn; Phish frontman and guitarist Trey Anastasio's national WINTER TOUR symphonic concerts; the Carnegie Hall premiere and Bridge cd recording of Mohamed Fairouz' SUMEIDA'S SONG (named one of 2013's "Best Recordings" by OPERA NEWS); as well as orchestration work on Danny Elfman's enormous retrospective Elfman/Burton Film Music Concerts and concert appearances as pianist in NY, London and LA.
updated 01/2014
NEWS AND UPCOMING PERFORMANCES
New CD Release
Vernon Duke: Violin Concerto / Complete Works for Violin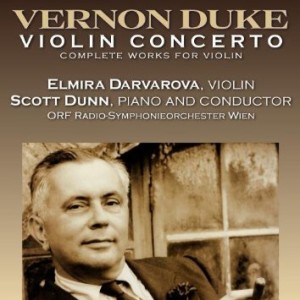 Get it at Amazon
Scott Dunn and the Mimesis Ensemble presents "All Roads Do Not Lead Forward," a program featuring the NYC Premiere of Mohammed Fairouz's Sadat, a Ballet in 5 Scenes for Chamber Orchestra.
May 26, 2015 – More infos