American conductor Scott Dunn is the Associate Conductor of the Los Angeles Philharmonic's Hollywood Bowl Orchestra. He has a special passion for film and crossover composers — ranging from George Gershwin and Vernon Duke to Leonard Bernstein and Danny Elfman. He has recently appeared with the Atlanta Symphony, Los Angeles Philharmonic, Orchestra of St. Luke's, Seattle Symphony, Sydney Symphony, Vancouver Symphony, Vienna Radio Orchestra (RSO) and other distinguished ensembles – as well as with such headliners as Trey Anastasio, Beck, Chris Botti, Bill Charlap, Elvis Costello, Ben Folds, the Indigo Girls, Steve Martin and others.
2016/17 season highlights include the world premiere of Dunn's live to film orchestral adaptation of REBEL WITHOUT A CAUSE with the LA Phil at Disney Hall; Scott Dunn conducts Richard Rodney Bennett with singer Claire Martin, the BBC chorus and symphony at the Barbican in London; Sondheim and Jazz Side by Side with Ann Hampton Callaway, Bill Charlap, Renee Rosnes, Dave Grusin and others at UC Berkeley, Disney Hall and elsewhere; The Music of Danny Elfman from the films of Tim Burton with the San Diego Symphony and others; and Jonathan Dove's MANSFIELD PARK with UCLA opera.
His latest recordings include The Complete Violin Works of Vernon Duke (Uhrlicht Audiovisual) with the RSO and violinist Elmira Darvarova; and MISIA (PS Classics) a 'new' Vernon Duke musical with orchestrations by Jonathan Tunick and musical adaptations/arrangements by Dunn.
10/25/16
NEWS AND UPCOMING PERFORMANCES
New CD Release
Vernon Duke: Violin Concerto / Complete Works for Violin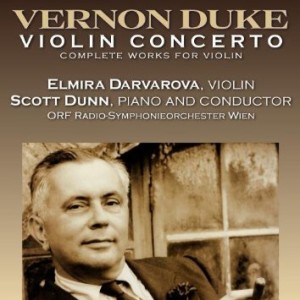 Get it at Amazon
DANNY ELFMAN'S MUSIC for the FILMS of TIM BURTON
After last season's successes at the Sydney Opera house and with the Atlanta Symphony, Dunn will conduct this fantastic film program (for which he supplied additional orchestrations) October 29 with the San Diego Symphony.
Scott Dunn conducts Richard Rodney Bennett on November 27, 2016