American conductor Scott Dunn is the Associate Conductor of the Los Angeles Philharmonic's Hollywood Bowl Orchestra. He has an affinity for new and American music with a special passion for film and so-called crossover composers — ranging from George Gershwin and Vernon Duke to Leonard Bernstein and Danny Elfman.
Recent engagements include the Atlanta Symphony, Los Angeles Philharmonic, Orchestra of St. Luke's, Oregon Symphony, Seattle Symphony, Vancouver Symphony, Vienna Radio Orchestra (RSO) and many other distinguished ensembles, as well as appearances with headliners Elvis Costello, guitarist Trey Anastasio, Steve Martin, Ben Folds, the Indigo Girls, Il Volo and others. 2015/16 season highlights include Disney's Fantasia with the Seattle Symphony and with the RSO at Vienna's Konzerthaus;  Danny Elfman's Music for the films of Tim Burton (with additional orchestrations by Dunn) at the Sydney Opera House and with the Atlanta Symphony; A Sondheim Tribute at the 92nd St Y with Bill Charlap; premiere of Daron Hagen's Chaplin's Tramp Concerto (dedicated to Dunn); premieres of Roger Bourland's opera and subsequent ballet La Paloma y la Ruiseñor in Mexico; release of The Complete Violin Works of Vernon Duke (Uhrlicht Audiovisual) with the RSO, violinist Elmira Darvarova and Dunn as conductor and pianist; and cast recording of MISIA: a 'new' Vernon Duke musical on life of Parisian muse Misia Sert with Duke's music adapted and arranged by Scott Dunn with orchestrations by Jonathan Tunick (PS Classics).
6-7-15
NEWS AND UPCOMING PERFORMANCES
New CD Release
Vernon Duke: Violin Concerto / Complete Works for Violin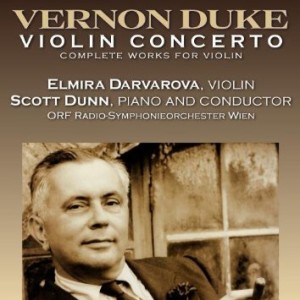 Get it at Amazon
Scott Dunn and the Mimesis Ensemble presents "All Roads Do Not Lead Forward," a program featuring the NYC Premiere of Mohammed Fairouz's Sadat, a Ballet in 5 Scenes for Chamber Orchestra.
May 26, 2015 – More info
DANNY ELFMAN'S MUSIC for the FILMS of TIM BURTON
Scott conducts this fantastic film music program (for which he supplied additional orchestrations) at the Sydney Opera House July 10 and 11; and later this fall with the Atlanta Symphony October 31.